Family Photoshoot – What should I wear?
Coordinate.
I always say to my clients how nice it looks when clothing coordinate's, it doesn't have to match, when they are deciding what to wear for photos. I recommend you start with the youngest and pull colours from their outfit to dress and layer everyone else. Layering can make a huge difference in tying in all the colours.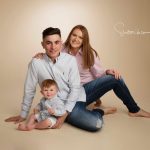 Choose neutral clothing.
For newborn or family photos, I always recommend wearing cotton t-shirts, linen or denim trousers, no shoes and loose and comfortable clothing. Staying neutral keeps the photos simple and soft with the focus on the connection and emotion between people. And don't forget if clothing is kept neutral your portrait will be timeless and won't date as much.
When families have no idea what colours to wear for photos, I suggest wearing any combination of cream, grey, and tan. It is pretty hard to mess that up and looks good in almost every setting. The result is a monochromatic look that I love. The soft neutrals always bring the focus back to the people in the photos. This timeless look is easy to pull together, and (bonus!) Kids usually love looking comfortable and not all dressed up.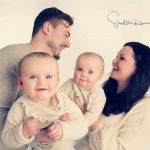 Use muted colours.
Since my work is more about feeling and less about style, I advise my clients to keep it simple and clean. I like the focus to be on the emotion and connection of the family. Subdued colors, solids, and muted prints work well for that. Skip logos and words as they draw the eye. Babies and toddlers look adorable shirtless and in just a nappy or a set of white or denim dungarees.
Tip – I've found that muted tones look beautiful together in a family picture. When picking patterns, choose smaller ones that won't pull attention away from the main subjects, and only put one person in a pattern. When thinking about texture, choose different ones that will give photos some interest such as lace, corduroy, denim, and knits. Try not to put little girls in skirts, unless you have a nappy covering on that you are happy to see on the portraits.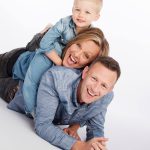 Choose colours from your home.
Many of my family photo sessions will have wall art. I tell my families to dress to coordinate with their home. Is your home light, bright and airy or moody and dark? What colors do you decorate with? What style do you lean towards? I also tell people to dress with no logos showing and muted colours, if possible, to enhance the timeless feel.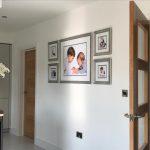 Highlight your best asset. (hide away bit's you're not so happy with)
Wearing something that highlights your best asset during your session will give you a boost of confidence throughout the shoot that will definitely show in your final images. As will hiding bit's you're not so comfortable with! For example, if you don't like to see the tops of your arms go for a long or mid length sleeve. Or why not try a high or polo neck if thats an area you feel uncomfortable with, the same goes for your middle area, try a longer top to skim over your hips. Rest assure though we are here to make you look and feel a million dollars! We will direct and pose you in the most flattering ways.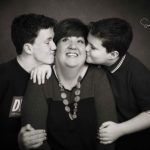 Keep comfort first.
My work is based on movement and playful behaviour. A mom in a short skirt and high heels is less likely to have the freedom in that outfit to play wildly with her kids, so I always tell my clients to think about being comfortable first. What you want to remember in 10 or 20 years isn't how talented you were at styling your kids but how happy you were together as a family. Pick the clothes that will let you run freely and be blissfully carefree! If you love to wear jeans, don't look further. They are comfortable AND photogenic, now you only need to find is the right tops!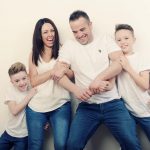 Minimize patterns.
Keep patterns to a minimum. Consider playing with textures instead. We want your family to be the star! The clothing should coordinate, not take over.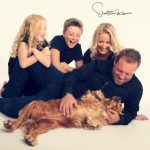 No shoes and socks please.
Keep it causal with bare feet, shoes look bulky and pretty ugly (to be frank). Don't worry though, we're not going to focus on your feet, they will blend away into the background of the image. The only time we recommend shoes is if you are going for a more formal style portrait.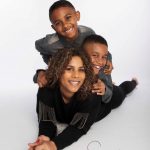 Don't smile.
Tip: Keep it light-hearted with children, don't build the shoot up too much. We want to get natural relaxed smiles, not forced scared ones 🙂 We have lots of toys and will make the shoot relaxed and fun.